Wacken 2024 Tickets On Sale Now with Official UK Travel Partner Argon Events
Wacken 2024 Tickets can now be purchased from Official Travel Partner Argon Events as part of one of their travel and/or accommodation Packages. Although, as usual, this year's Edition has sold out, as Official Travel Partner, Argon Events have their own allocation of Wacken 2024 tickets and currently availability is still good across all Packages.
The Festival is celebrated as the one of, if not, THE Premier Metal Festival in Europe, guaranteed to sell out each year.
NEW FOR 2024 – Argon Events are delighted to announce that when purchasing Wacken 2024 tickets as part of a coach travel package from Scotland or the very north of England, Tour Coach departures now include Glasgow, Edinburgh, Carlisle, Newcastle Upon Tyne, Darlington & Lancaster.
So thinking of purchasing Wacken 2024 tickets?, then why not let Argon Events take away the stress of wondering how to get there. Let us organise the whole trip for you when you buy your Wacken 2024  tickets as part of a travel package.
Wacken 2024 tickets may be purchased as part of coach travel packages with either camping or hotel accommodation from more than 40 UK departure towns.
For those unable to sit on a coach for more than 5 minutes and would like to make their own travel arrangements to Germany, an hotel and ticket package with daily festival transfers may be preferable.
For people who already have their Wacken 2024 Tickets but haven't made arrangements to travel, all our travel and hotel packages are available to book without having to purchase festival tickets.
To check out all the available packages go to the Argon Events website.
Bands announced so far for the 2024 Edition include;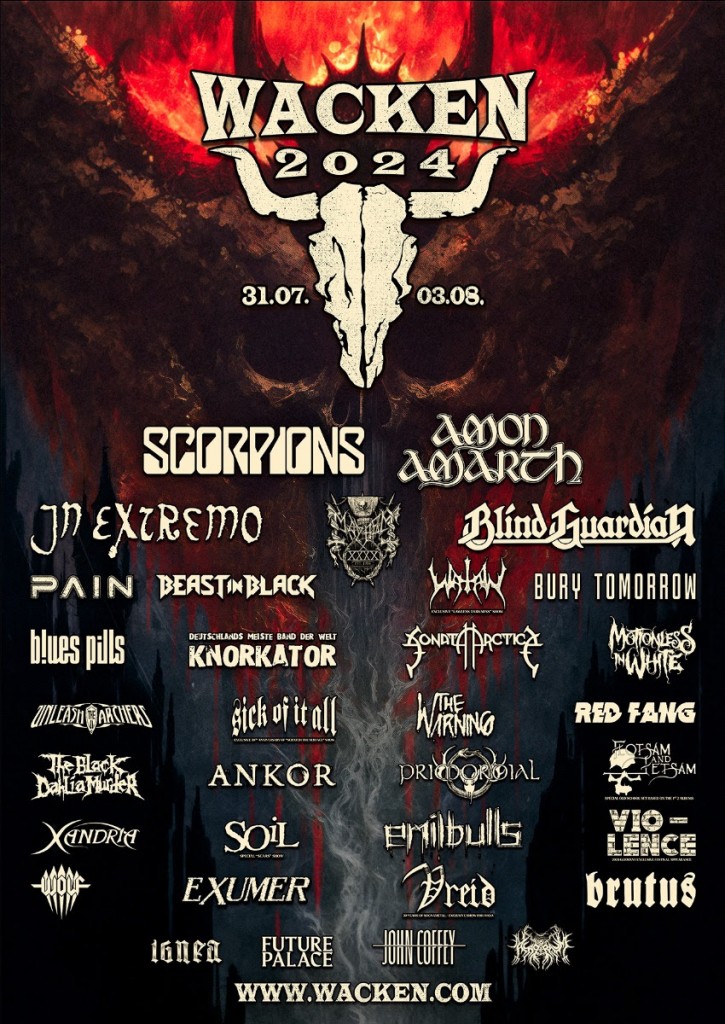 For a full list of confirmed acts to date for Wacken Open Air 2024 and to find all the latest news and announcements, check out the Wacken Open Air website.