Graspop 2018 Tickets On Sale Now with Official UK Travel Partner Argon Events
Graspop 2018 Tickets can now be purchased from Official Travel Partner Argon Events as part of one of their travel and/or accommodation Packages.
Graspop Metal Meeting is firmly established in the upper echelons of European Festivals and next year's Graspop 2018 Tickets will offer you an extra day's Festival for your money!!
Yes, Graspop 2018 Tickets offer you a FOUR DAY FESTIVAL, that's one more day than most of the other European Metal Festivals in 2018.
So thinking of purchasing Graspop 2018 Tickets?, then why not let Argon Events take away the stress of wondering how to get there. Let us organise the whole trip for you when you buy your Graspop 2018 Tickets as part of a travel package.
Graspop 2018 Tickets may be purchased as part of coach travel packages with either camping or hotel accommodation from more than 70 UK departure towns.
For those unable to sit on a coach for more than 5 minutes and would like to make their own travel arrangements to Belgium, an hotel and ticket package with daily festival transfers may be preferable.
For people who already have their Graspop 2018 Tickets but haven't made arrangements to travel. All our travel and hotel packages are available to book without having to purchase festival tickets.
To check out all the available packages go to the Argon Events website.
Bands announced so far for the Graspop Metal Meeting 2018 Edition include;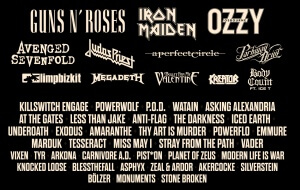 Three of the four Headliners are already there, Guns n Roses (Thursday), Iron Maiden (Friday) and Ozzy Osbourne (Sunday). Watch this space for Saturday's headliner to be announced soon.
For a full list of confirmed acts to date for Graspop Metal Meeting 2018 check out the Graspop Metal Meeting website.